Description
Product feature
XY base structure design, full belt drive, superior stability and printing accuracy ensure the quality of the model; The double Z-axis design increases the load capacity of the heated bed, reduces printing errors and prints finer.
DIY X5SA assembly with complete parts and tools. The paper manual, SD card with an electronic version of the manual and a link to the installation video. Assemble and debug by yourself, enjoy the fun of DIY assembly to achieve unlimited innovation and transformation of appearance and performance according to your ideas and creativity. This process takes some time to install, debug and learn, which is quite a challenge for beginners and more recommended for experienced users.
Silent motherboard and high quality power supply. The TRONXY silent motherboard uses an ultra-quiet TMC motor drive chip imported from Germany, so the printer always operates at low decibels. High quality 360W power adapter, the power system is more stable and safer.
Full functionality, support for automatic leveling, manual leveling, filament detector, power failure to resume printing functions and other basic functions.
Technical specifications
Machine size: 645mm*580mm*660mm
Printing size: 330mm*330mm*400mm
Package dimensions: 670mm*475*200mm
Machine weight: 13kg
Package weight: 15kg
Print speed: 20-100mm/S (60mm/S suggested)
Layer height: 0.1-0.3mm
Positioning accuracy: X/Y: S 0.00625mm, Z: S 0.00125mm
Nozzle: standard 0.4mm
Connection interface: USB, TF card
Nozzle temperature: ≤275°C
Heating mat temperature: ≤100°C
Filament support: PLA, ABS, HIPS, PETG, WOOD, PC, PVC
Machine material: Aluminum profile, sheet metal
Screen: 3.5 inch color touchscreen
Power supply input: 110V / 220V AC, 50 / 60Hz, output 24V 36W
Ambient temperature: 8-40°C
Ambient humidity: 20-80%
Operating system: WINXP / WIN7 / MacOS
Slicing Software: Cura, Tronxy Slicing Software
Operating software: Repetier-Host, Cura
File format: G-CODE, STL, OBJ
Certification: CE FCC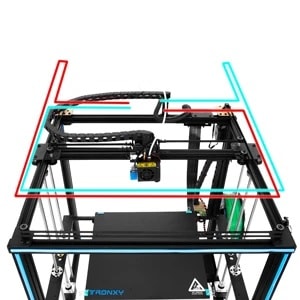 Tronxy X5SA is a DIY desktop 3D printer with a large build volume of 330*330*400mm
The COREXY 3D printer uses XY motors to work together. As the timing belt moves on a flat surface, the pressure is more stable.
High dimensional accuracy.
The machine is very stable even in high speed operation.
The motherboard and the power supply can be hidden and the space is used.

Ultra quiet motherboard
The TRONXY Silent motherboard has a built-in active noise cancellation function that modulates the voltage carrier to minimize the current ripple, cancel the noise, and make the noise cancellation effect more noticeable. Support WIFI extension with WIFI interface.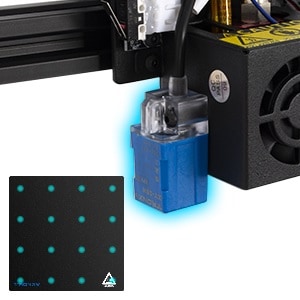 Auto-leveling sensor
16-point data acquisition, ensures hot bed leveling, while automatically compensating for hot bed height deviation during printing to improve printing accuracy.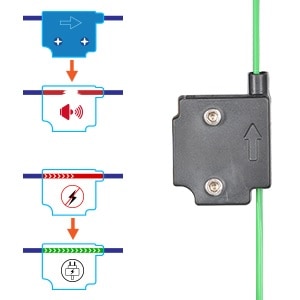 Filament detector
Automatically stops and gives a warning signal when the filament runs out or the filament is broken.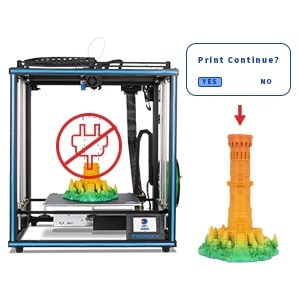 Resume printing after power off
Resume printing after a power outage or other unexpected interruption.
After powering on, the UI can continue printing to avoid wasting time and filament caused by unexpectedly stopping the printing process.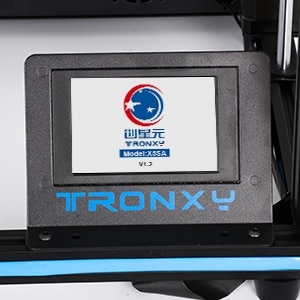 3.5 inch color touch screen
New experience, HD display. The user interface is simple and easy to understand which makes it easy to use.
Previews of the 3D model on screen with the Tronxy slicer to generate the G-code.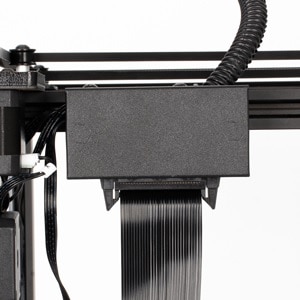 30 pins
Say goodbye to messy and chaotic power lines.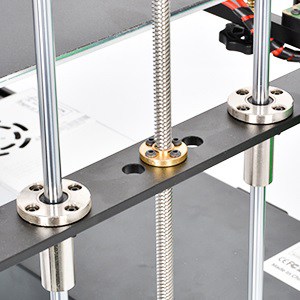 Upgrade with metallic linear ball bearings
Bearings are stronger and have a longer life